📅1 July – guest Sabrina Paravicini Italian actress, director, writer and screenwriter! ⏰ 9.15 pm – Award ceremony best direction – screening of the film 🎬 𝐁𝐄 𝐊𝐈𝐍𝐃 a gentle travel within the diversity and meeting with the director Sabrina Paravicini.

June 30th – guest Saverio Tommasi !! Let's start the Festival with a super day: ⏰ 6.30 pm presentation of the book 𝗜𝗡 𝗙𝗢𝗡𝗗𝗢 𝗕𝗔𝗦𝗧𝗔 𝗨𝗡𝗔 𝗣𝗔𝗥𝗢𝗟𝗔 (Feltrinelli) and meeting with the author Saverio Tommasi ⏰ 9.15 pm Awards best actor and best actress Autism AwardArezzo Screening of the docu-film short film 𝗜𝗟 𝗚𝗜𝗥𝗢 𝗗𝗘𝗟𝗟𝗔 𝗠𝗢𝗥𝗧𝗘 𝗜𝗡 𝗖𝗔𝗥𝗥𝗢𝗭𝗭𝗜𝗡𝗔 (Fanpage.it) and speech by Saverio Tommasi

📅 We present the official dates of the #OfficineSocialMovie 2021 Festival at CINEMA EDEN AREZZO! 📅 Short films, awards, guests and many surprises! 🎉 Great news: thanks to the precious contribution of the supporters of the Festival (foundation CR Firenze, Municipality of Arezzo, Prodigio Divino, #unicoopfirenze – Arezzo Members section) Officine Social Movie will have free admission 🎉 We look forward to seeing you 🤩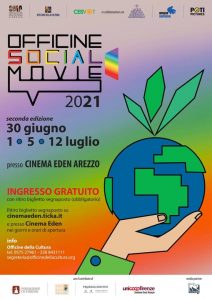 La Nazione
#officinesocialmovie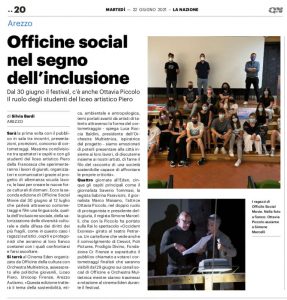 We thank the Municipality of Arezzo for supporting our Officine Social Movie project with an economic
contribution as part of the call for proposals "#ripARtiamoinsieme – Young Protagonists – The Municipality involves you".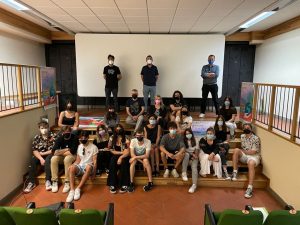 Voting day for #osm21!
This morning the students of the Liceo Piero della Francesca of Arezzo voted for the award of the "youth language"!!
Are you curious about the winner?
Follow the page to stay updated
#osm2021#festival #cinema
#cinemaedenarezzo #officinesocialmovie
🎥 Yesterday afternoon the organization of the Festival Officine Social Movie dedicated to the short films that will be held this summer at the CINEMA EDEN AREZZO has officially begun. We met with the boys of the Art School Piero Della Francesca : there are those who have followed promotion lessons, those who have learned to watch a short and those to take care of the organization
💪💪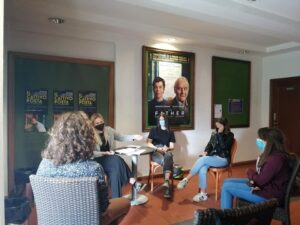 💪 Let's start working on the design of the second edition of Officine Social Movie together with the students
of the Liceo Piero della Francesca!
In fact, they will be the protagonists of the Festival to be held this summer at CINEMA EDEN AREZZO:
flanked by expert operators and consultants, they will take care of the graphics of the festival,
they will be part of the jury that will designate the winners,
they will be involved in the organization and communication of the festival. project!💡
** The Officine Social Movie project is realized thanks to the contribution of the CR Firenze Foundation **
#officinesocialmovie #festivalcortometraggi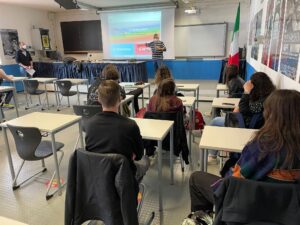 🧐 Hey you?

Have made a short film and can't wait to show it to everyone?

Partecipated in our contest!
You have until May 9, 2021 to send us your project. Do you want more info?
Visit our website: www.officinesocialmovie.com/bando
WE WANT YOU
Here is the photo with the award of Lucia Lorè, 🏆 winner of the category BEST ACTRESS for the 11💪